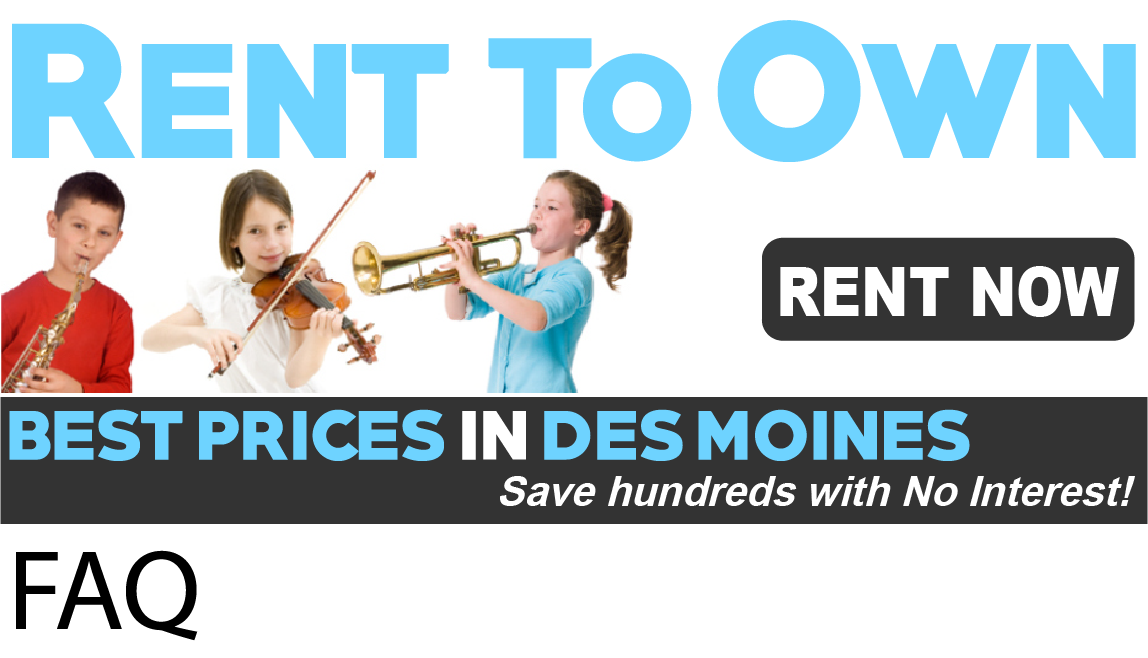 Uptempo Music Rent To Own FAQ

Check out these FAQs and give us a call today for more information.
Do you offer a Rent-to-Own program for school band and orchestra instruments?
Yes we do and all our instruments are band director approved.
Do I have to rent or can I just buy a band instrument?
Absolutely! We sell both NEW and USED band instruments at discounted prices. All used instruments are first sent through the repair shop where they are cleaned, sanitized and serviced to be in great playing condition.
Where are you located?
We are a full service music store located in Des Moines, Iowa.
Can I rent on line?
Yes, you can rent on line or come to the store in Des Moines
Is it expensive to rent an instrument?
No. We have the lowest rates in Iowa, 100% of your rent goes toward the purchase price of the instrument and most of our starting balances are discounted below the manufactures list.
What if I change my mind or find another instrument?
No problem, you may cancel any time by simply returning the instrument. You have nothing to risk beyond one rental payment.
How much interest am I paying?
Zero - We charge no interest which will save you a considerable amount of money. Most programs in the country do charge interest and it can add several hundred dollars to your payoff. Know what you are signing up for before you rent.
Do you offer a maintenance program?
Yes. Our affordable repair and maintenance program covers all repairs and routine maintenance.
Are your rental rates increasing this year?
No. We have not raised our rent in over 10 years. If you have had previous rentals with us you will find our rates unchanged.
What kind of band and orchestra instruments do you rent to own?
Brass, woodwind, string, and percussion instruments including: Flutes, Clarinets, Trumpets, Trombones, Baritones, Saxophones, Violins, Violas, Cellos and Percussion.
How do your rental rates compare to similar programs in the area?
Our monthly rents are the lowest, we don't charge interest and the number of payments required to pay off our instruments is considerably less in most cases. All this adds up to saving you a considerable amount of money when compared to other programs.
Can I pay off my instrument early without penalty?
Yes! We charge no interest or penalties for anything. You're welcome to pay it off any time you like!
Are your instruments band director approved?
Yes, we only offer quality major brands that are 100% serviceable. Band directors have been sending parents to Uptempo Music since we opened in 2003.
How long have you been in business?
We are in our 20th year at the same location in Des Moines' Beaverdale neighborhood.
Do you carry instrument accessories?
Yes, we carry all the required accessories for your instruments. We also stock music books for all the schools in the area.
Do you buy instruments?
Yes, we sell and buy used instruments and accept trade-ins as well. When it comes to used musical instrument stores in Des Moines, IA, be sure to shop with us.
Do you offer instrument repairs?
Yes, we offer instrument repair services. Contact us today for a quality music shop in Des Moines, IA.